Lentejas con chorizo
This is tasty, very easy to cook and you can make a big batch to freeze in portions.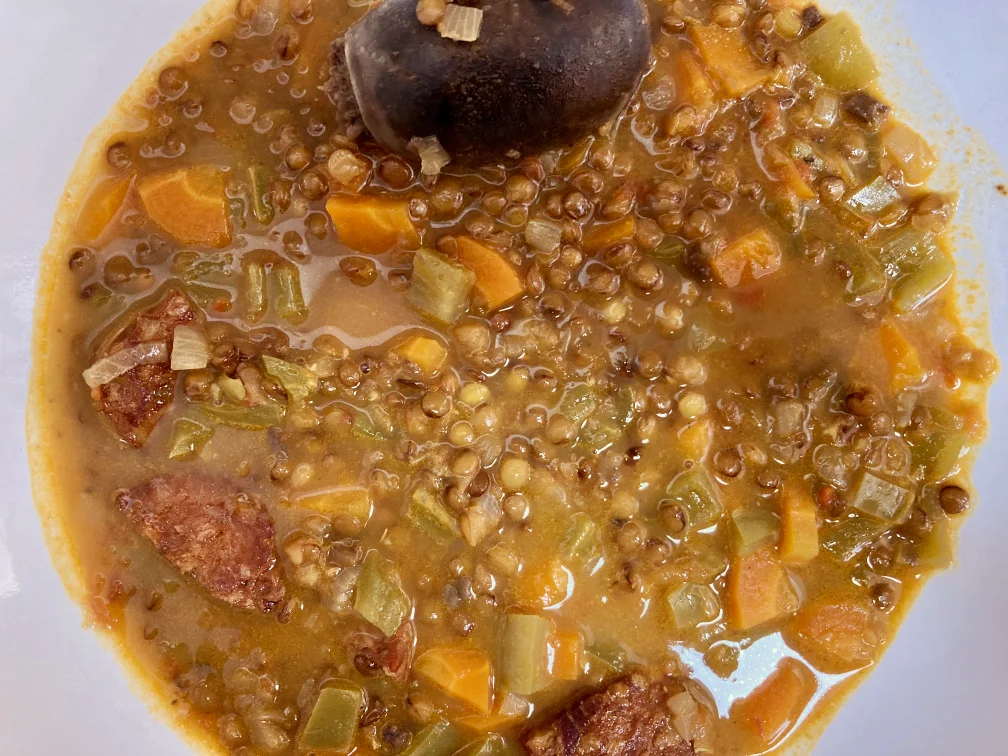 You can make this vegan (and healthier) if you skip the meat sausages (chorizo and morcilla) and use a veggie broth or plain water. If you opt for this, I'd recommend adding more paprika and a bit of olive oil to the pot to enrich the flavor.
In addition to the carrots, you can add more vegetables, like zucchini or squash. Diced potatos are also good, but then you won't be able to freeze some portions.
Note that cooking time will vary depending on your lentils variety and the stock/water. Read the package instructions.
About the lentils themselves, you can use any variety, but I like lentejas pardinas because they don't split easily.
stew, legumes, freezer
4 servings
---
4-6 Tbsp of sofrito (aprox. 2 tomatoes, 1 onion, 2 garlic cloves)
1 italian pepper
320 g of lentils
1 carrot, in quarter slices
1 l of stock
Salt and pepper to taste
1 Tbsp of smoked paprika (or to taste), mild or spicy
1 pinch of ground cumin
1 bay leaf
8 slices of chorizo for cooking (I like the spicy one)
2-4 onion morcillas (optional, I also like the spicy variety)
Olive oil
---
Add a bit of olive oil in a hot pan and sear the meat (the chorizo slices and the morcillas).

Add all the contents of the pan (oil and juices included) to a big pot.

Add the sofrito, the vegetables, the lentils and cover with stock. You can top up with water if you don't have enough.

Add the spices and the bay leaf. The liquid will reduce, so add a bit less salt than you think, and correct later.

Let it cook for 40-60 minutes (see the instructions in the lentils' package).